Home ICU Care
Home ICU Nursing Care For Critical Patient At Home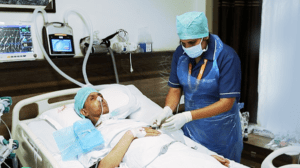 Our Home ICU Care services are driven by a critical care team comprising an Intensivist, ICU Nurses, Respiratory Therapist, Physiotherapist and others. They are extremely competent in handling chronically ill patients who need continuous close monitoring and nursing care, employing high-end medical equipment.
Our team is highly competent to handle a range of services that require clinical expertise, such as specialty nursing care of patients who require invasive ventilator support, BIPAP/CPAP support, tracheostomy care, post-surgical care, stroke care, end of life care and more.
ICU at home is less than 50% of the hospital ICU cost.

Negates the possibility of hospital acquired infections.

Patients recover faster in the comfort of their home.
Critical Care Patient At Home –
Critical Care for ICU Patient mean a complete ICU setup at home to cater to the needs of a patient. Home ICU Nursing Care with Attendant Care Available.
Patient at intensive care need special support. So we bring your love once closer to you . With capacity of providing ICU Nursing Care For Critical Patient At Home facilities. Home Medicare4U ensues professional, hospital like treatment at the comfort of your home
Prolong ICU Stay

Post Operative neuro surgical care on prolong assisted ventilation

Palliative Oncology Care

COPD/Restricted Lung Diseases

Neurological disorder

Brain Hemorrhage or Stroke Care
As per your requirement, you can hire the services of a ICU Nursing Care for 12 hours or 24 hours